This article is a stub. You can help us by expanding it.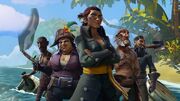 Pirates are playable characters within Sea of Thieves. While they possess no difference in attributes, they are cosmetically different. Below you can find some of the pirate's avatars.
Customization
Players can customize their avatars with gender, physique, appearance, and outfits.
You can upgrade your pirate's appearance through gameplay. Unlocking outfits, gear, and even limbs!
Avatars
Ad blocker interference detected!
Wikia is a free-to-use site that makes money from advertising. We have a modified experience for viewers using ad blockers

Wikia is not accessible if you've made further modifications. Remove the custom ad blocker rule(s) and the page will load as expected.