This article is a stub. You can help us by expanding it.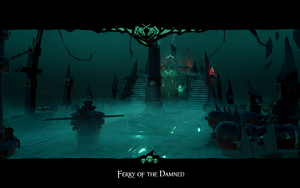 The Ferry of the Damned is a ship that a player will encounter upon dying. Similar to Davy Jone's Locker, the Ferry acts as a euphemism for a player's return to the living world.
Interaction
You can move freely aboard the ship and once the door to the captain's quarters opens, you can rejoin the normal Sea of Thieves environment.