'Sea of Thieves' Profile: Concertina
The Concertina is one of the two musical instruments in Sea of Thieves, along with the Hurdy-gurdy.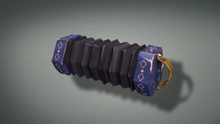 Trivia
A concertina is a free-reed musical instrument, similar to an accordion. The main difference between the two is that the buttons on the latter travel perpendicular to the bellows, while the former has buttons that travel in the same direction.
Items