'Sea of Thieves' Profile: Concertina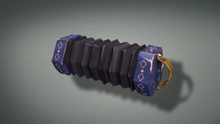 The Concertina is one of three musical instruments in Sea of Thieves, along with the Hurdy-gurdy and the Drum.
Trivia
A concertina is a free-reed musical instrument, similar to an accordion. The main difference between the two is that the buttons on the latter travel perpendicular to the bellows, while the former has buttons that travel in the same direction.
Items
Image
Name
Price
Rep lvl
Outposts

Sailor

Default

N/A

N/A

Bilge Rat

4,075g

N/A

All Outposts

Scurvy Bilge Rat

8,150g

N/A

All Outposts

Castaway Bilge Rat

4,075g

N/A

All Outposts

Sea Dog

4,075g

N/A

Dagger Tooth Outpost
Galleon's Grave Outpost

Rogue Sea Dog

4,075g

41

Dagger Tooth Outpost
Galleon's Grave Outpost

Ruffian Sea Dog

4,075g

N/A

Galleon's Grave Outpost

Admiral

4,075g

N/A

Sanctuary Outpost
Golden Sands Outpost

Ceremonial Admiral

4,075g

41

Sanctuary Outpost
Golden Sands Outpost

Grand Admiral

4,075g

N/A

Sanctuary Outpost
Golden Sands Outpost

Sovereign

4,075g

N/A

Ancient Spire Outpost
Plunder Outpost

Royal Sovereign

4,075g

41

Ancient Spire Outpost
Plunder Outpost

Imperial Sovereign

4,075g

N/A

Ancient Spire Outpost
Plunder Outpost

Black Dog

N/A

N/A

All Outposts

Hunter

4,075g

N/A

All Outposts

Bone Crusher

N/A

N/A

All Outposts